Introduction:
At Go4Growth Consulting, our commitment to helping businesses achieve their full potential is at the core of everything we do. Today, we are thrilled to share an inspiring testimonial from one of our valued clients, Paramount Testing Instruments Pvt Ltd. Our journey with Paramount has been nothing short of transformative, and their testimonial is a testament to the power of strategic collaboration and dedication to excellence.
Paramount Testing Instruments Pvt Ltd: A Legacy of Excellence
Paramount Testing Instruments Pvt Ltd is a renowned name in the textile industry, with a legacy spanning over six decades. They are known for their commitment to quality and precision in manufacturing textile testing instruments. However, as the business landscape evolved, Paramount faced challenges maintaining its market position and relevance.
Our Holistic Approach:
When Paramount Testing Instruments Pvt Ltd approached us for assistance, we recognized the need for a holistic approach to rejuvenate their brand and restore their 60-year-old glory. Our dedicated team at Go4Growth Consulting took up the challenge enthusiastically and embarked on a comprehensive transformation journey.
Areas of Impact:
Our collaboration with Paramount Testing Instruments Pvt Ltd encompassed several crucial areas, each contributing to the revival of their brand:
Marketing Strategy: We crafted a dynamic marketing strategy tailored to Paramount's unique strengths and market positioning. This strategy included content marketing, digital campaigns, and targeted outreach.
Communication: Effective communication was vital to reestablish Paramount's industry presence. We worked on revamping their messaging to convey their legacy of quality and innovation.
Sales Strategy: A robust sales strategy was developed to streamline processes, identify new opportunities, and enhance conversion rates.
Sales Training: We provided comprehensive sales training to equip Paramount's team with the skills needed to excel in a competitive market.
Industry Webinars: Paramount's expertise was showcased through industry webinars, positioning them as thought leaders and increasing brand visibility.
Lead Channels: We opened new lead channels, expanding Paramount's reach and customer base.
Systems and Processes: By implementing efficient systems and processes in marketing and sales, we improved overall operational efficiency.
Paramount's Testimonial: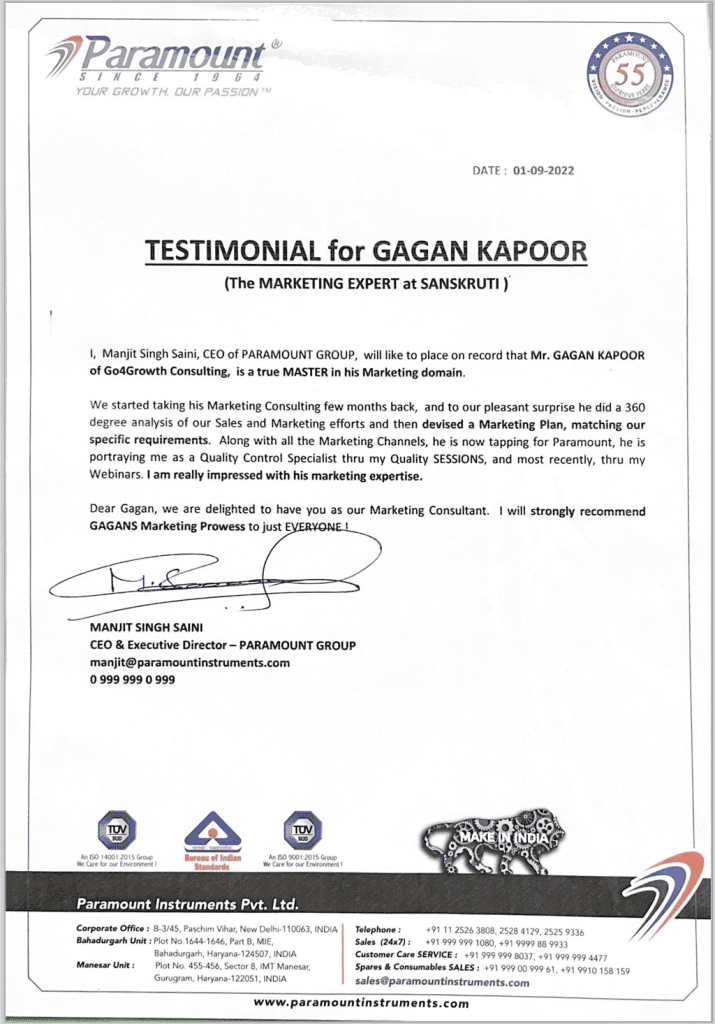 Conclusion:
The success story of Paramount Testing Instruments Pvt Ltd exemplifies the potential for reinvention and resurgence in the business world. We are immensely proud of our partnership and the role we've played in rekindling the flame of their 60-year-old legacy.
If you're seeking transformation and growth for your business, we invite you to connect with us at Go4Growth Consulting. Together, we can unlock new possibilities and ensure your brand shines brightly in the market.
Contact us today to explore how we can make a difference for your business.